Can I just say I'm utterly
thrilled it's Friday.
This has not been a good week for me.
I've been an emotional wreck.
I had quite the meltdown yesterday
and a great chat with a mate today.
(Thanks Elizabeth.)
Tomorrow is ISAZ
(Internation Schools Association of Zambia).
Another mate talked me into conducting a workshop.
I'm really excited,
and a tad nervous too.
And since I'm starting to feel better
I thought I'd participate in this week's
Five Question Friday!!!!!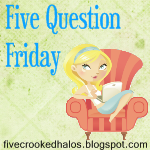 1. What album/CD/download are you embarrassed to admit you own?
I need to sort my iTunes music,
so Ethan's songs don't play on
my iPad.
I caught myself singing
a Phineas and Ferb song
the other day
after hearing it on my iPad.
2. What's the one thing your spouse does better than you.
I can hear Scott already,
"One? They only want one?
Why not a list?"
Since we all know I don't cook,
you must know that he's a better cook
than I.
And a better driver.
And better at Maths.
3. When do you start buying Halloween candy?
Halloween candy
is a little hard to find here.
Last year we participated
in the PTA's
Trunk or Treat.
Scott went to Dar in early October
and bought some.
This year,
I'm taking Ethan to
Trunk or Treat,
so no need to buy candy.
4. Family closets - Yay or nay?
Ok, so what is a
family closet
exactly?
Does it mean more
shoe space for me?
Cos if it does,
yay, yay and yay!
5. Which home/cleaning chore do you hate the most? Why?
I don't clean.
So all housework!
Although I don't mind the laundry.
Or doing the dishes.
Bathrooms!
That's the one I will not do!!!!