It's the beginning of our Halloween weekend.
Yes weekend.
This entire weekend is filled with Halloween events.
Ethan attended a Halloween party at Kilimanjaro Cafe this afternoon.
We later had the PTA's Trunk or Treat.
Tomorrow, Scott and I are going to a Halloween party,
and Sunday is Halloween in the Hood,
followed by trick or treating.
And even though it's been an exciting day,
it's now time for
Five Question Friday!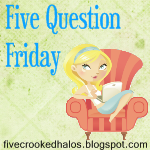 1. Do you prefer cotton, silk or flannel sheets?
Cotton. In this heat, silk is sticky and flannel is too hot!
2. What time zone are you in?
I'm embarrassed to say I have absolutely no clue.
Seriously.
I had to Google it.
And apparently it's CAT.
That's Central African Time.
3. What is your favourite part of the holiday season?
Scott would tell you my favourite part is the gifts.
And while I do admit,
I love seeing pressies under the tree,
my favourite part is being home.
With family.
And we're not going home this Christmas.
And even though I know we'll have a great Christmas
it won't be the same.
4. What is your favourite "wintry" drink?
Well that's easy.
Every winter, when we go home,
you can always be sure you'll find me
sitting on the sofa,
with an blanket around my shoulders,
drinking a hot chocolate,
with Baileys.
5. In your opinion, what is the worst job in the world?
Hmmm...
This needs some thinking.
Snake charmers.
But that's because I'm utterly terrified of snakes.
The guy who cleans up after the animals in the zoo.
Exterminators.