We're on mid-semester break.
Yeah!
Today we're off to Ndola.
Scott's mate has a farm and I have a whole stack of books that need reading.
But we don't leave for another couple of hours,
which gives me time for...
Five Question Friday!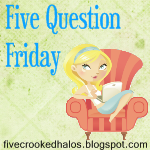 1. Where do you escape to when you've had enough?
While we were in Dar, whenever we needed to get away, we'd hop on over for a weekend getaway to Zanzibar. Just to spend a weekend laying on the beach, doing absolutely nothing recharged you for the weeks ahead.

We have yet to find a place here to getaway to. We've been exploring different places. But in the meantime, a Sunday afternoon, sitting at Sugarbush, sipping wine, does wonders!
2. What shows are you watching this fall?
Well it's spring here. And we don't necessarily get a whole batch of new shows, but I do have my Must See TV line up. Castle, Private Practice, The Big Bang Theory, Cougar Town, and NCIS are all on my list.
3. What was the longest roadtrip you've ever taken and where did you go?
A few years ago, we decided to drive up to Ruaha. It took us a day to get to Iringa, where we stopped and spent the night, then completed the trip the next day.
4. Do you plan on taking your kids to Disney World?
YES!
Ethan's been asking for awhile now. We've basically "decided" (cos you never know, things change) that we'll go next year. The current plan is to go home for Christmas, then head there for New Years. Ethan's already making his list of characters he wants to meet.