Guess what?
It's Friday!!!
Whoohoo!
The weekend is here,
a mate from Dar is passing through Lusaka,
so will come spend the night.
And I got a fabulous package in the mail.
(You'll have to wait till Tuesday to learn about that)
And as it's Friday,
it also means it's
Five Question Friday.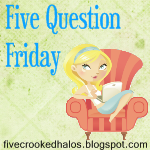 1. Do you prefer your ice cream in a bowl or a cone?
So I'd like to say I'm a cone person. But if I'm honest, it would seem that I tend to get my ice cream in a cup. Not sure why. I don't have anything against the cone. Hmmmm.... now that I think about it, it would seem the cup preference began when I couldn't decide between two flavours. Knowing if I got a double scoop would lead to the possibility of one scoop falling off, I opted for the cup. And now, being a one-scoop-only-since-my-waist-can't-deal-with-two person, I still prefer the cup.
2. What three things do you love the smell of?
Had this been asked yesterday, I probably would have a different answer for one. This morning, I was taking my students down to the tuck shop so they could have their snack. As I reached the tuck shop, I could smell a batch of freshly baked brownies. Oh wow! I just had to get myself one.
And while we're on the topic of food. I love the smell of vanilla.
I also love fresh cut flowers. With market day every Friday, I try to buy flowers for the house.
3. Giftcards or no?
Hello, my name is Tima and I'm a shopaholic. I love shopping! Every year, Scott and I asked his nieces and nephew what they want for Christmas, and they always ask for gift cards. Bummer. I loose out on the whole shopping experience for them.
4. What sports did you play in high school and do you still play them?
I was all about the drama in high school. And I mean my life's drama and the drama club. I was so not an athletic type. Come to think of it, I'm still more of a drama queen than an athlete.
5. Were you in band in high school? What instrument did you play?
Nope! Was never in a band. My musical talent was/is almost as good as my athletic ability! I took piano for a few years. Then quit. I took guitar lesson for a few months, then quit. There's just too much drama in my life!