This has been a long week.
I'm so happy it's Friday.
Tomorrow's the Dutch market,
so should be a good day.
But as it's still Friday,
and I haven't participated in awhile,
I thought I'd join in,
once again,
to Five Question Friday!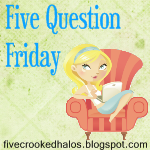 1. Do you make your kids finish all the food on their plates?
Ethan's quite the fussy eater.
I think he's gotten better,
Scott may disagree.
But since we know Ethan's fussy,
I make sure I give Ethan what he wants
along with what I want.
I also make sure he gets just enough food.
Ethan's never not finished what's on his plate,
but I'd like to think it's more the habit he's in
and not that we've made him eat it all.
2. Do you give an allowance.
No.
He's five!
What does he need an allowance for?
But then,
days like tomorrow
when we'll go to the market
and he'll want to buy a whole lot of crap,
I'll give him some money
to spend on what he wants.
But I always make sure he knows
to spend it wisely!
3. Do you actually park your car in the garage.
No.
I'm sure Scott would tell you
we don't because I've got some other crap there.
But seriously,
I have some stuff there.
There's still plenty of room for the car.
It's just not parked there.
4. What is one food you'll never cook.
I don't cook!
5. Do you have anything exciting planned for the summer?
Ethan and I are going to Canada.
Woohoo!