My dearest Ethan woke up Wednesday night with a fever.
He stayed home from school, yesterday.
He was not happy about that.
He was convinced with some medicine,
he could handle school.
What's worse,
is I couldn't stay home with him.
Normally,
I'd have no problem calling into work,
and telling them I can't come in,
but,
I'm on course.
I'm attending a PYP workshop.

We made an appointment with the paediatrician today.
So instead of missing the whole workshop,
I missed a bit.
Ethan doesn't have malaria.
It's viral.
We're hoping he feels better soon.

Meanwhile,
it's Friday!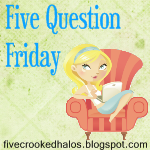 1. What movie do you love to quote?
I'm not a movie quoter.
I do have lines I love from movies.
What do you want to marry me for, anyhow?
So I can kiss you anytime I want.
Maggots Michael. You're eating maggots.
But I don't quote them.
2. Have you ever ridden a motorcycle?
Yes.
Oh, you want details?
Nothing too exciting.
Went on a couple dates with a guy who had a bike.
Thought it was pretty cool.
A few years later,
I thought men with bikes were sexy.


3. What's your favourite thing to do on a rainy day?
Make myself a cup of hot chocolate,
curl up on the sofa,
with a blanket
and a book.
4. Do you prefer a bunch of small gifts, or one really big (expensive) gift?
This is a loaded question.
When we go home for Christmas,
small gifts make packing easier.
But not a whole bunch of small gifts.
Big gifts are great.
Except when your brother buys your son
a huge gift and you're stuck trying to figure out how to pack it.


5. Do you ever lose track of days and show up somewhere wrong?
I tend to confuse days.
I'll tell Ethan he has an activity
that he doesn't.
Or confuse my students.
I usually catch it,
so we don't show up somewhere wrong.
However,
when we're on vacation,
I'm utterly clueless!