What I enjoy the most through reading my friends' blogs, besides reading all their wonderful stories, is being introduced to new blogs that I suddenly love.
This recently happened, when I made a visit over to
Sarah
. She has a post about her Happiness Project which linked to the creator,
Leigh
. Well, we all know I have an addictive nature, and well I just had to do one for myself!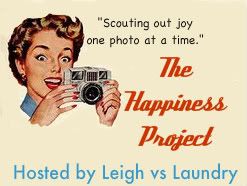 Ethan was invited to a birthday party on Friday. I was already in a wonderful mood, as school ended and it was the first time in 6 months that I was able to fetch him from school. And off to the party we went. Nearing the end, the children started playing musical chairs. Am not sure if Ethan has ever played it before. But there he was, sitting on a chair, ready to start. The music began, and he just sat. The music stopped, and he clapped. The music began again, and this time Ethan got up and danced. He was so proud. The music stopped and he stood there until another child directed him to sit. The music started again. This time Ethan got up, danced around and when the music stopped he found a chair to sit in and was ever so proud!
And so was I!