There's, yet another, blog I found that I really enjoy.
Mama Kat
offers a Writer's Workshop every Thursday. She provides 5 prompts and you can choose one, or more, and write about it.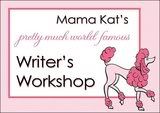 This week, I've decided to give it a try. I love to write, but I don't find myself to be all that creative. I especially hate writing poetry. And yet, this is the prompt I chose;
Write a poem about the last thing that made you mad.
Here I go....
I have a driver
I don't ask for a lot
Just to drive us places,
Especially when it's hot.
I don't like waiting
When you are there
Tell us you're around,
So we don't look everywhere.
Don't just leave
Without telling anyone.
Don't got for food
Without telling someone.
I have places to go,
And things to do,
And am unable to do so,
I depend on you.
So if you want breakfast,
Lunch or a snack,
Just check with someone
Then come right back.
You may think I'm spoilt
I do sound like a brat,
But I'm neither, really,
I'm just an Expat!