This week, I'm going to slightly change my topic. Sorry
Mama Kat
.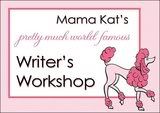 If you could do it over again…
I thought about this one. A lot. At first, I thought of high school. The summer before my last year, a bunch of mates were going to France to earn their French credit. I can't remember why, but I didn't go. I always think I missed a great opportunity. And while I probably did, that summer, Ottawa opened a teen hotline, and I got to be a part of that. Wouldn't have happened if I went to France!
In my early 20s, I got into a major argument with my parents. That weekend, I moved out. If I could do it again, I probably wouldn't be so impulsive. But.... I learnt how to pay rent, clean a house, basically, be independent.
Planning my wedding was a pain. The wedding itself was gorgeous, but the weeks leading up to it were stressful. I remember my last dress fitting; I had a hard day at work, it was pouring rain, I slipped on the dress, took one look at myself, and thought, "This is the ugliest dress ever". Of course it wasn't, and I looked gorgeous (if I may say so myself). If I could do my wedding over, I would elope!
Yeah right!
Granted, there are many stupid things I've done and should do over, but.... here's the thing; I am who I am today based on decisions I made, so if I could do it over again, that moment might be better, but the lesson I learnt, or the experience I gained, or the people I met, would never had happened.