It's African Freedom Day
here today.
Which means it's a long weekend here.
Woohoo.
But no,
we are not taking advantage
of the long weekend
and going away somewhere lovely.
Instead,
our weekend will be spent with
Scott entertaining Ethan
while I get some work done.
So far today,
I've marked my students
summative assessments,
written my Unit reports,
made hummus
and written my Professional Goal Statement
for Grad School.
Oh yay,
Grad School.
Did I mention I decided to apply.
(Let's hope I'm not jnixing it
and will get in)
But now,
before I begin marking some
Maths paper,
I thought I'd take a moment for
Five Questions Friday!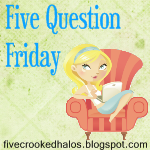 1. Are you a napper?
Ok,
so this is a toughy.
I'm not generally a napper,
I'm not sure when I could fit one in during my day.
Although,
there are those days when I
need a nap.
And when I need one,
I take one.

2. What was your favourite subject at school? Most hated?
I loved history.
I even majored in it in university.
But maths....
oh maths....
you are not someone I get along well with.

3. Did you have something old, new, borrowed, blue at your wedding? What were they?
I seem to recall making sure I had it all,
but, blimey,
I cannot recall!
Let's see if I can dig into
this old brain of mine.
Ah Ha! I remember!
My brother's girlfriend lent me an anklet.
My jewlery was something my grandmother had bought
years and years before my weddidng day.
My dress was new.
My garter was blue!

4. What one thing are you determined to do this summer?
Have fun!
Buy shoes!
Get into Grad school!
Have fun!

5. Ice cream or popsicles?
Ice cream!
No contest!
Chocolate Mint Chip!
Chunky Monkey!
Phish Food!

Ok, time to get to those Maths paper.
They're not going to mark themselves.