When we moved to Lusaka, we chose a place in a compound.
Knowing that Scott would travel, I tend to feel safer knowing I have neighbours.
Also, I hoped Ethan would have some mates to play with.
So we moved in, and there were no neighbours.
Bummer.
A few months later, Sarah and Richard moved into one of the houses.
They have a 10 month old baby.
Which is great, but no playmates for Ethan.
Then we learnt that one of Ethan's classmates is moving in.
Yay!
I get home today, and they are in the process of moving in.
Ethan's invited his classmate over,
and then he headed to her place.
Where he stayed all afternoon and was upset when it was time to come in.
Guess I now know where to find Ethan!
And that brings us to Friday!!!!!
It's been ages, but I'm joining up with
Five Question Friday!!!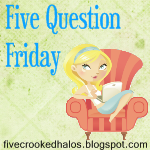 1. If you were free to just hop in the car and drive, where would you go? Or, if you could hop a plane and go anywhere, where?
Not too sure about hopping into the car,
but if I could fly anywhere,
I'm still awaiting my trip to Italy.
We were suppose to go to Italy last summer,
but with Scott's new job,
that was postponed.
So,
Italy..... here I come!!!
2. What's your most recently read favourite book?
I'm going to cheat here.
Because next week,
actually, not even a full week,
JR Ward's new book gets released.
I have every plan to gobble it up over the weekend,
and I know it will be the best book so far this year!
3. What's your favourite Spring Break memory?
When I was about 21-ish,
my parents took my brother and I to Disneyland, Florida.
Now, I know what you're thinking,
but wait!
My parents had a conference the whole time,
leaving my 16 year old brother and I free range.
We had a blast!
We got along, went on rides,
goofed off,
and had everything paid for!
4. What do you put in your child's Easter basket? Or, for those w/o kids, what was put in your childhood basket?
Ethan's baskets are never the same.
He gets a chocolate of some kind,
but everything else is different each year.
This year he also gets a book.
Not sure what else, yet.
5. Do you get a summer haircut?
Not only do I go for a new cut,
but I also get a new colour.
And not just for the summer,
but for all seasons and occasions.
In fact,
expect to see a new colour in a couple weeks.
I'm thinking some orangy highlights.
For Easter of course!